---
WORDS AND
ABSTRACT FORM

Monica Dengo
Georgianna Greenwood
Torsten Kolle
Helga Ladurner
Kathy McNicholas
Polly Morris
Andreas Schenk
Sandra Schilling
Cristina Serena
---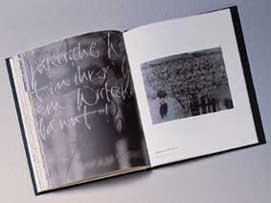 pages 110 and 111
WORDS AND ABSTRACT FORM
Sandra Schilling (Germany)
Liebe
Photographic paper; 40 x 48 cm


---
CONCEPTUAL WORKS

What makes a work conceptual? Or how does one define "conceptual"? One way to think about this is to say that the works have a story.

Sometimes the stories are obvious, sometimes they can be discovered, sometimes they have to be told to you, and sometimes you just create your own. Deciphering the meaning of a conceptual work, however, is often a difficult task. The works defined in this category easily fit the above definition of conceptual. Many previously described works also fit this definition but for discussion purposes they were linked with other categories.

All of the works with the exception of Piero Brombin's Architettura di Architettura rely on the use words. Brombin's panels look like long texts with images but are only paper and other materials manipulated in various ways to illude to texts. Gamba's Zero over Zero becomes obvious when the title is known. However even without this information the work stands as a beautifully created abstract textural image in wood, paint and gesso. Paolo Marcolongo's Wittgenstein seems firstly to be a tribute to the famous philosopher; but it also has curious links to the history of writing. The letters appear to be in stone, whereas inscriptional letters were on stone. Also letters are usually thought of as on paper - but when we think of this we don't think of "stone" letters sitting on paper.

The Book of Births and Beginnings is perhaps the most provocative work in this group - one where the story needs to be told. It combines an almost computer-like grid pattern with written letter combinations. A very very close look and a little help from the artist reveals that the work shows all of the possible 3-letter combinations from AAA to ZZZ. Like DNA the words generated are the result of the random couplings and triplings of the letters... and this story can continue. The work's success lies with the fact that the story is unnecessary. It stands as a purely abstract mysterious provocative visual image.
A fitting final comment is presented by the work of Floriana Rigo: L'arte non si spiega, art cannot be explained.

---


pages 150 and 151
CONCEPTUAL WORKS
Thomas Ingmire's text