IL MONDO DELLA CALLIGRAFIA
TORRE DI MALTA, CITTADELLA, PADOVA

1995 APRIL
THE WORLD OF CALLIGRAPHY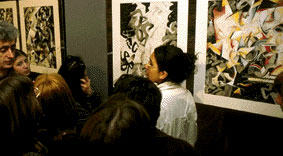 The second floor with Thomas' pieces and a group of students
---

VIVA LA CALLIGRAFIA
What struck me most about these seven days was the enthusiasm of everyone involved. Students, teachers, and even recent alumni from the school participated in the preparation of the works for presentation in the exhibition.
An exhibition poster (copies were hanging throughout the city), t-shirts, and a series of 8 full color post cards were designed and printed by the school.

The workshops were all full, and were attended by teachers, students, and past students from the various graphic design schools in the region. Most of the students however were from the M. Fanoli school in Cittadella.Their ages ranged from 14 to 18. Teaching in Italy is always a special experience for me, however teaching students this age was a first.
These students were absolutely terrific. They were kind, patient, creative, full of energy and great fun. I was very sorry to see the classes end.
This program also had the support of the City Council and Cartiera Favini.
CITTADELLA, A SMALL DOT ON THE MAP,
MAY SOON BECOME A LARGE DOT ON THE CALLIGRAPHER'S MAP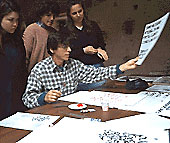 Thomas during a lesson in the tower


---

previous page - next page



---
[Belle Lettere Home]
[Belle Lettere Summary]
[Belle Lettere Award]
[Belle Lettere Book]
[Belle Lettere Workshop]
[Belle Lettere Mission]
[Belle Lettere SITEMAP]